Causality Confirmed!
 Dramatic Surges in All-Cause Mortality Linked to CV Vaccine Rollouts
17 Million Deaths Worldwide: Equivalent to World War I
TO ENJOY OUR PREMIUM AUDIO PLAYER
IF YOU ARE OUR SUPPORTER,
LOG IN >

Introduction
Causality proven. The paper is based on 17 countries in the Southern Hemisphere and equatorial region. A definite causal link is shown between many peaks in all-cause mortality and rapid vaccine rollouts. The authors quantify the fatal toxicity risk per injection.
Authors: Denis Rancourt, Ph.D., Marine Baudin, Ph.D., Joseph Hickey, Ph.D., and  Jérémie Mercier, Ph.D. It was published on Sept. 17.
To eliminate seasonality as a possible confounding factor, the Correlation researchers, examined all available data for countries that rolled out the vaccines but where there was no seasonal fluctuation (equatorial countries) or the vaccines/boosters were rolled out during the summer and so the effects of the rollouts could be seen most clearly.
Those countries, all located in the equatorial region or the Southern Hemisphere where the rollouts were in the summer, included  Argentina, Australia, Bolivia, Brazil, Chile, Colombia, Ecuador, Malaysia, New Zealand, Paraguay, Peru, Philippines, Singapore, South Africa, Suriname, Thailand and Uruguay.
Facts
– More than half of the countries analyzed had no detectable rise in all-cause mortality after the WHO declared a global pandemic on March 11, 2020 — until after the rollout of the COVID-19 vaccines and boosters.
– All 17 countries, which make up 10.3% of the global population, had an unprecedented rise in all-cause mortality that corresponded directly to vaccine and booster rollouts.
– 1 death per 800 injections across all ages and countries. By that calculation, with 13.5 billion injections given up to Sept. 2, 2023, the researchers estimated there were 17 million COVID-19 vaccination deaths  globally following the vaccine roll-out.
– It killed 0.2% of the world population and did not measurably prevent any deaths," the authors wrote. It is 1,000 times higher than previously reported in data from clinical trials, adverse event monitoring and cause-of-death statistics gleaned from death certificates.
– The COVID-19 vaccines did not save lives and appear to be lethal toxic agents.
– Variants "waves" cannot explain the spikes. For that to occur, the new variants would have to cause simultaneous peaks and surges in mortality in 17 countries, "which is a statistically impossible occurrence if we accept the theories of spontaneous viral mutations and contact spreading of viral respiratory diseases; and all the resulting peaks of mortality would have the remarkable coincidence of occurring precisely when vaccine boosters were rolled out."
– No evidence that COVID-19 vaccines had any beneficial effect. If vaccines prevented transmission, infection or serious illness, then there should be decreases in mortality following vaccine rollouts, not increases, as in every observed elderly age group subjected to rapid booster rollouts.
– (vDFR) grows exponentially with age. The risk of dying from the COVID-19 injection doubled with every 4-5 years of age, which is approximately half the doubling age of dying of all causes of mortality, including cancer, pneumonia and heart disease.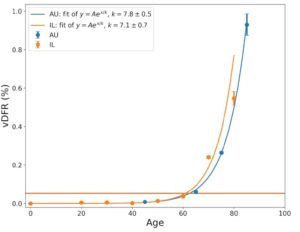 Procedure
All-cause mortality (ACM) — a measure of the total number of deaths from all causes in a given time frame for a given population — is the most reliable data used by epidemiologists for detecting and characterizing events causing death and for evaluating the population-level impact of deaths from any cause, the authors wrote. Unlike other measures, ACM data are not susceptible to reporting bias or to biases that may exist in subjective assessments of the cause of death. Any event, from a natural disaster like an earthquake to a wave of seasonal or pandemic illness appears in ACM data.
Excess mortality is a term used in epidemiology and public health that refers to the number of deaths from all causes during a crisis above and beyond what we would have expected to see under 'normal' conditions.
Vaccine-dose fatality rate (vDFR) — the ratio of vaccine-attributable deaths to the number of vaccines given. They found it ranged from 0.02 to 5%, depending on country, age and number of shots given and that the overall, all-ages vDFR for all 17 countries averaged 0.126.
Autopsy studies, adverse event monitoring and peer-reviewed publications, studies of vaccine-induced pathologies, analysis of adverse events in industry clinical trials and payouts from global vaccine injury compensation programs, which together they say demonstrate the COVID-19 vaccines caused many individual deaths.
Wake Up Others Before It´s Too Late,  SHARE!